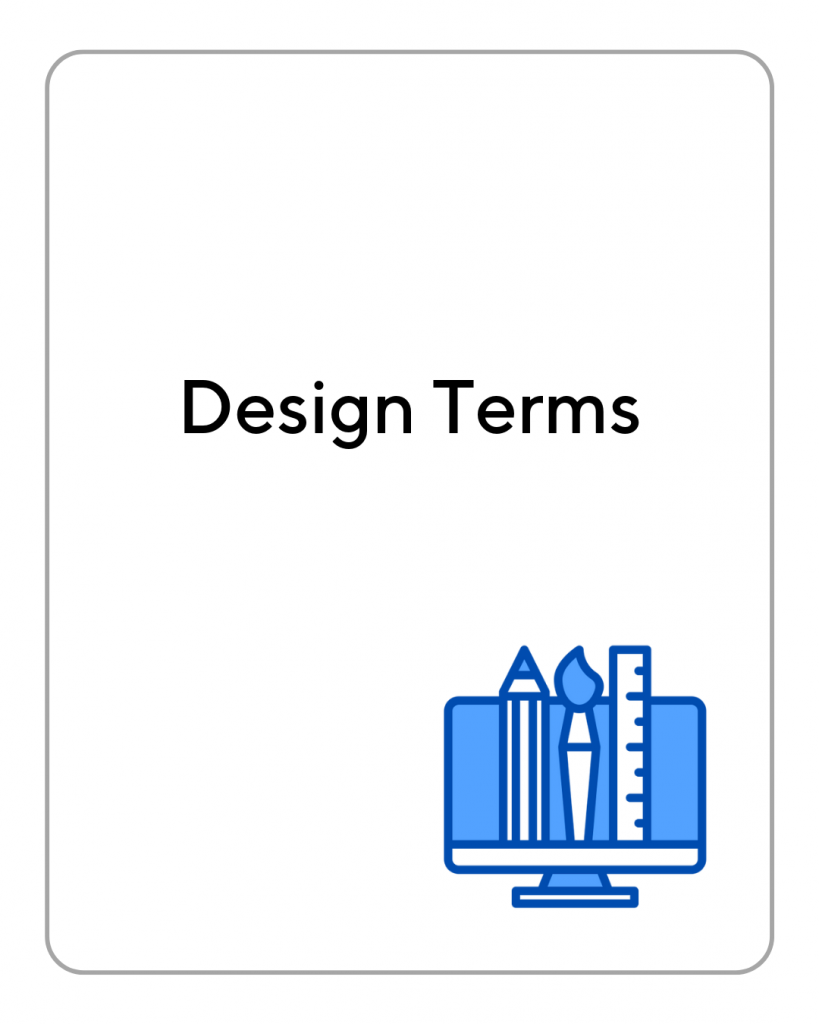 1.Ready-to-Print Specifications
Resolution: 150 PPI (pixels per inch)
Color profile: RGB
File Type: JPG / PNG
Maximum size per file: 100 MB
The Height becomes the Length of Fabric (Y axis), The Width of Fabric (X axis).
Files should be able to be opened using Adobe Photoshop program (any version)

1.1 File Format
File format must be in JPG or PNG. It is important that the file is compatible with any version of Photoshop. Please make sure that the file flattened (only having 1 layer). The image should be in the size of the desirable print.

1.2 Color profile
Color Profile must be in RGB. If you use the other color profile, color change may occur.

1.3 Resolusi dan Ukuran File
The submitted file must have a minimum quality resolution of 150 ppi, so the results are not pixelated. The file size should not exceed 100 MB.
2. Guides to Make a Design File using Adobe Photoshop
Please note the resolution, color mode and color profile. All should be in RGB. The resolution should be at 150ppi when the file is created.
In order to make sure your file is not pixelated, please check it on View – Print Size. Your final print should be sharp enough if on this step you see your file is not blurred.
There will be a tolerance and color difference between your design on the screen/monitor with the final print due to the characteristic of our natural fabric. To adjust the color sharpness of your design, please check it on Image – Adjustments – Levels.
Please check on Input Levels to adjust the levels.
3. Definition of Seamless Design
Seamless design means the pattern can be placed side-by-side with copies of itself without any visible seams or interruptions (repeated). For seamless pattern, please refer to the information below:
X = Width of Fabric (width)
Y = Length of Fabric (height)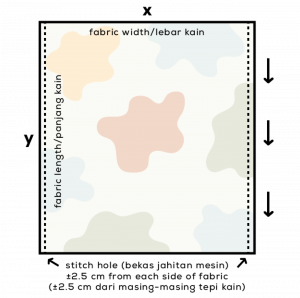 The design position (XY Axis) should be positioned as on the picture:
Please attach the X and Y repetition sizes on the Custom Order form, or the design will be printed as it is, according to the attached file. For example: X and Y = 10 cm and the total fabric order is 5 meters, then the size of the repetition of the pattern is 10 x 10 cm and then it will be repeated until it fills the entire 5 meter without visible seams / interruptions
Seamless Design is a design without visible seams or interruption between repetitions. Zalmon Fabric is not responsible if the customer provides a ready-to-print Seamless design, however, after the all over print is done there is a visible seams (the file is not Seamless).
Here is a Seamless design example with a repeat size of X = 35 cm and Y = 35 cm, and will be printed on a fabric measuring 100 cm long x 150 cm wide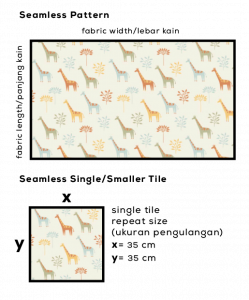 If you want to print a fabric with a design like the example, you only need to send a design file that you want to repeat. But, you have to make sure the design you send can be repeated perfectly (seamless design). Please check it using Photoshop. You can also ask our help to check it.
4. Definition of Non Seamless Design (Paneled Pattern)
Non Seamless Design is a non-repetition pattern or a paneled pattern. For example, Non-Seamless design is a pattern for scarf, pattern for clothes and all the pattern that already have its own layout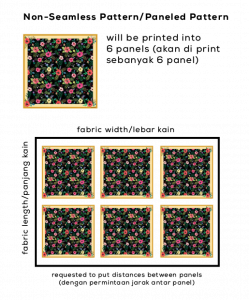 If the Customer has a Non Seamless design and the design will be printed more than one time, please include it on the "NOTES", in the Order Form form for the spacing between panels. For example: The spacing between panels is 3 cm. If you don't include anything in the "NOTES" column, the design will be printed directly without any spacing.
5. Layout and Tracing Design
We provide layout and pattern making services. The cost and duration will be adjusted according to your design difficulty. The final design will be in high resolution (specific for fabric printing), and the Customer will own the rights to it.
In order to use this service, please fill the Order Form along with any color/ design reference. We will send you the invoice through email. You have 2 chances to revise the design. You will be charged 59000 IDR/ revision if you do it more than 2 times.
6. Additional Charge
There will be additional cost for 59000 IDR/ layout if required. For example:
_ If the file sent by the customer is 50 x 50 cm (there are 6 designs) and you want to layout it into a 100 x 150 cm fabric, then there will be an additional layout fee of 59000 IDR
_ If the file sent by the customer is 110 x 110 cm and wants to be given a contour / border line on the design side. Then there will be an additional layout fee of 59,000 IDR per design
For more information about the cost of design and tracing services, click here.


7. Design Privacy and Copyright
Zalmon Fabric keeps the confidentiality of Customer designs and is willing to sign Non Disclosure Agreement (NDA) if required.
Customer is responsible for all copyrights submitted to Zalmon Fabric.
Zalmon Fabric is not responsible if there are claims/strikes regarding the copyright of designs sent by the Customer.